Lisa Brown (Owner, Tap and Children's Jazz) grew up in San Francisco and took dance lessons from the late Lorna Fordyce. She began teaching at Lorna's studio when she was just 16 years old.  It was at that time that she realized her passion for teaching. 
Lisa loves inspiring young dancers and introducing them to the exciting art of dance (especially tap).  She has taught for years throughout the Bay Area at several dance studios before opening her own studio in 1997.  She also has the pleasure of currently teaching tap at Adda Clevenger Junior Preparatory School in San Francisco.
Lisa especially enjoys the experience of owning her own studio and working with her wonderful students and talented teachers. She takes great pride in teaching the fundamentals of dance while having fun!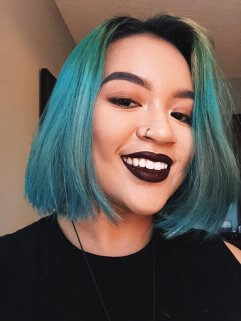 Alinah Solidum an alumni, has been a hip hop teacher at Sunset Academy of Dance for 2 years and while she was a student she was a teachers assistant as well. She fell in love with the Art of Hip Hop at 6 years old, under the direction of Darnell Carroll. She currently dances with Academy of Villains and continues to have the strive and passion to perform. Alinah feels that dance is an extension of ones personality but above all, she believes that dance should be fun and accessible to all.
Tarik Rollerson grew up in the bay area and received his dance training from several groups like Imani's Dream, Mini Shock Oakland, Destiny Arts Center, Junior Jam Squad, Sunset Academy of Dance, City Shock/Funk Beyond Control and Academy of Villains. He has been teaching at Sunset Academy of Dance since 2016 and is the director of his own hip hop adult group, 1Up.
Cassidy Isaacson started dancing when she was four years old and has trained at numerous schools in the WA area including Dance Premier, Westlake Dance Center, The Connection, Pacific Northwest Ballet, and Deborah Hadley's School of Ballet. Miss Cassidy's training consists of ballet, pointe, lyrical, contemporary, jazz, hip hop, tap, and modern. She has won competition titles at Tremaine, West Coast Dance Explosion, Encore, Spotlight, International Dance Challenge, and Youth American Grand Prix Competition to name a few. Miss Cassidy has toured and performed in China, Paris, and Vietnam. In the summer of 2011, she received a full scholarship to The Juilliard School and accepted a contract with Grand Rapids Ballet Company when she was 16 where she spent eight years of her professional career before joining Smuin Contemporary Ballet in 2019 and has choreographed over 11 world premieres on her fellow colleagues. Cassidy has years of experience teaching contemporary, jazz, lyrical, ballet, heels, and improv as well as years of experience choreographing dance routines and running competition teams. Some of her favorite works performed over the years include Trey McIntyre's Wild Sweet Love, Alejandro Cerrudo's Extremely Close, Penny Saunders' In Frame, and Annabelle Lopez Ochoa's Written and Forgotten. Miss Cassidy is very much looking forward to running the contemporary team program here at Sunset Academy of Dance!